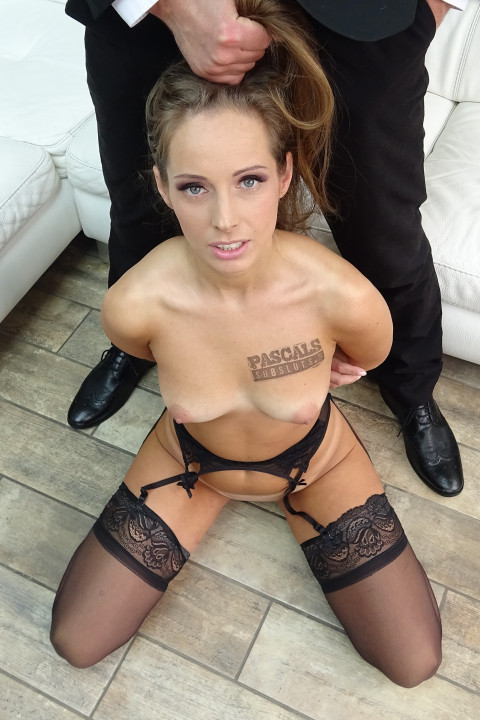 JOIN NOW AND MEET KINUSKI
Kinuski
Kinuski: Best Fuck She's Ever Had
Where to start with Kinuski? She's a self-confessed sex addict. She shoots porn for all those la-dee-da upmarket companies in Europe and the US. She's been watching PSS for four years and is a huge fan but was too scared to approach us. Pascal reached out to her on Twitter just because she was following his account. He hadn't a clue. At first she said no to working with us. Two hours later she said yes.
She turned up for the shoot shitting bricks. But that's okay because she's into fear play. It also didn't stop her playing the brat, because she likes to challenge people. Oh and she point-blank refused to use yellow as a safe word to slow things down. If she was going to use anything it was going to be red. And the solo vid was going to be a problem because she didn't like wanking. (Or something. I never quite got to the bottom of that.)
All of which makes her sound like a prima donna but she wasn't at all. She was just headstrong and laying down the rules for how she wanted to play.
This is one of those weeks when it pays to watch everything consecutively. The solo vid isn't a solo vid, partly for the reason already given, partly also because she was really testing us during the photoshoot, which we shoot after the interview and before the solo and fuck vids. I then used what would usually be the solo vid to knock the bratishness out of her. I had to go at her hard and it's not pretty. But it worked. So this week's solo vid comprises the photoshoot and then the correctional training, and we're not putting up a photoshoot vid on Saturday.
We started the fuck scene with a very docile Kinuski. She was already putty in Pascal's hands, which is a joy to see. It's so fucking hot the way she submits to him. But she still needed training to remember to ask for permission to cum and to look at you guys and say she was cumming if we let her. It takes a bit of time but we get there in the end.
I honestly do not think I've shot a woman cum in a scene as much as Kinuski did. It was like she was being electrocuted from start to finish. In her second interview she says that the sex she had with P was 200% better than the best of all the sex she'd had before. That, my friends, is some kind of result.
Oh and when you're watching her throat getting ploughed in and out by P's dick, bear in mind that it's the first time she's ever been facefucked.
Barring the interviews, we've got 97 minutes of hardcore pornographic entertainment for you to enjoy this week, featuring a flawlessly beautiful 31-year-old woman getting ruthlessly mistreated and abused in pretty much the exact way she'd fantasised about. I hope you enjoy.
- Anal & vaginal fucking
- Physical & verbal domination
- Orgasms
- Deepthroat & face-fucking
- Squirting
- Choking
- Spanking
- Cumshot (CIM & swallow)
See you next week.
Andy
STRIP PICS (72 total photos)
FUCK PICS (79 total photos)
Meet the Subsluts here first