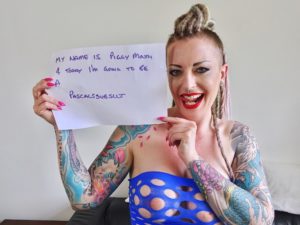 I love women who look like Piggy Mouth. It starts with the face. The eyes, the nose, the lips, the teeth. It takes no prisoners. Smart, sinful, imperious, devastating. It slaughters all before it. And then the body – the milky skin, the full pink tits, the mountainous ass. This woman was born to kill you with her cunt, slamming up and down on your cock, spitting in your eyes, biting chunks out of your neck till your cock and heart explode.
She's also 34, which for a chap like me who likes his bitches to have a few years on the clock is as perfect as perfect gets. Imagine her seducing the school friend of her 16-year-old son (which is real life she doesn't have), how she'd tease and terrify him, humiliating him as he tries to hide his boner, and how she'd make her move…
But this is PSS, friends. Piggy Mouth isn't here to conquer. She's not playing her bitch tricks with us, using, abusing and walking away. We couldn't give a shit she's a size queen. Piggy Mouth is here to learn. All those hundreds of cocks she's fucked in the toilets and back alleys of fetish clubs (and she reckons she's nudging on a thousand), they all point to one thing. She's a trash whore. And there's only one way to treat a trash whore – with brute force and utter disdain.
Before we started shooting, Piggy said she was a brat. Brat, bitch, whatever. She never got to show it in the scene. Pascal slapped and choked it out of her from the very first second, then he annihilated her throat and cunt with his dick. She got the message. Maybe her cunt cumming all the time helped to spell it out for her. The function of Piggy Mouth, and all those like her with their fleshy, dripping beauty, is to be used by cock, for the pleasure of cock. It's never too old to learn, girls, and we'll always be happy to educate.