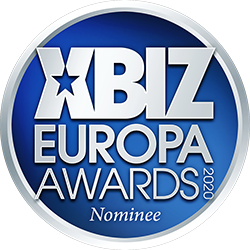 Once again, we've been nominated for an XBIZ Europa award. We're on a bit of a roll with XBIZ. Last year we won the prize for Best Specialty Site 2019 and Best Fetish Site in 2018. For 2020, the category is Best Performer/Director site, and we like our chances for the win.
No matter how many of these prizes we get in the running for, Pascal still lights up with the same glimmer he gets before doing a shoot with a nice piece of ass. "I'm very grateful and honored that PSS has been nominated. Thank you for all your support over the years."
2020 was a challenging year for porn production fo sure. Luckily we were able to keep it fresh by introducing our members to Pascal's wider body of work – stuff he's done outside of PSS, which there's loads of. If you're new to PSS or you've been out of the loop, check out what we've been up to lately.
The 2020 XBIZ Europa Awards will be presented virtually for the first time on October 22 at 8pmCET on XBIZ.tv. Industry voting is now open and continues until October 5 here.