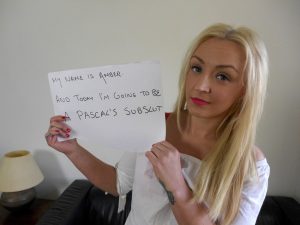 Amber Deen lives in Aberdeen, is indeed Scottish, and has got a thing about young cock. She totally loves it, young chaps in general, fucking them, going out with them, etc. It's a lot to do with mothering them and being in charge, in the nicest possible way. Perfect milf material really and a refreshing change from all those girls dreaming of Daddy, not that that actually ever bores us.
But certainly Mummy stripping down and pushing her bottom into our awe-struck faces, as she's doing here, is certainly something we could get used to and would entertain repeat performances of.
Our day with Ms Deen was lots of fun. Knockout sex and a great laugh. Kind of sums up PSS at the moment. The daffs are in bloom and the sun's starting to shine, we're a couple of perverts making our livings from some seriously reprehensible behaviour, and life couldn't be sweeter really. Hurrah!