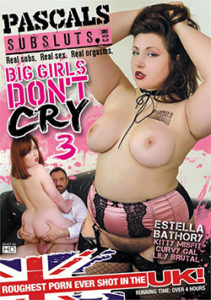 And the award for Fetish Movie of the Year is… PASCALSSUBSLUTS!!! Forgive us for sounding a bit puffed-up, but we've won yet another award, at the 2018 XBIZ Europas.
This time, it was for "Big Girls Don't Cry 3". Big Girls 3 was a genuinely 5-star feature, all the scenes were as good as they could be, so it's gratifying to win.
Front and centre to winning this award are the girls who starred in it. Estella, Kitty, Curvy Gal and Lily – you were fantastic. Your scenes blew the roof off. You were really turned on, you wanted to be filthy and just get fucked and used.
Stars like you are what makes the reality porn of PascalsSubsluts really fly. Thank you and respect!
We're going to need a bigger trophy case.
Here's some pics from the event. Some are a bit blurry, but you can thank the open bar for that!