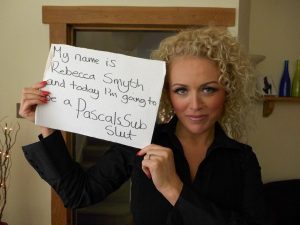 This is Rebecca Smyth. She's the only porn slut I know who uses her real name for her stage name. She's also the only porn slut I know who looks this ridiculously good at – whisper it – 43. Pascal trashed all three of her holes last week in South London. She came non-stop from start to finish. Happily I was there to record it.
Rebecca used to work in porn and then stopped for 12 years and then decided to get back into it a few week's ago. We were the first to welcome her back. We've got history with her. She shot her first scene with P way back when, and I shot her for the first series of Bitch In A Box I did for Television X, likewise with P, which ended up being the genesis of PSS.
Why the comeback? "Because I love getting my cunt out for the camera," laughs Rebecca. "I've missed it so much. It just gets me so wet." And indeed it does, as we'll be proving in the next couple of days when her updates start going up (a little tardily, for which apologies).