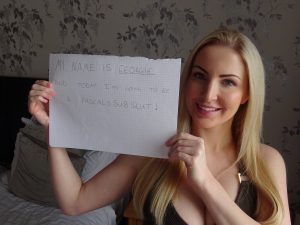 Georgie Lyall is 33 and Scottish. She's got looks to make you melt and a sex drive that needs constant attention. And she's just discovered her sub side thanks to a boyfriend who's happy to ram her day and night just so long as he can rough her up a few times in the process. She loving it!
And she loved coming all the way down from Loch Lomond where she lives, right on the water, to star in her very own PSS scene and find out what all that Dr P fuss is about. The good doctor gave her a right seeing-to, that's for sure!
Check out all of Georgie's sizzling uploads starting this Sunday, 21st January. This is one SubSlut you're definitely not going to want to miss!